Profile

Free Account
Created on 2012-04-07 01:00:47 (#1592971), last updated 2012-04-07 (284 weeks ago)
4,776 comments received, 80 comments posted
147 Journal Entries, 10 Tags, 0 Memories, 15 Icons

About

Mini Bio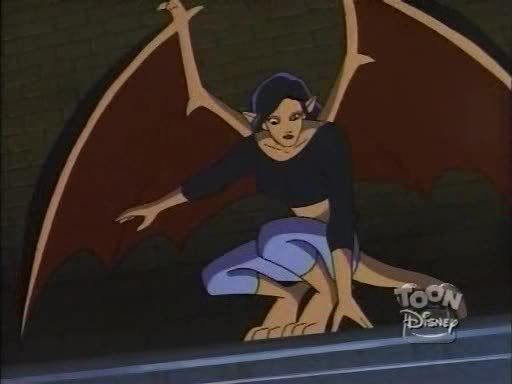 I was born Elisa Maza, a human. My life was fairly normal; I was a detective in the NYPD and had a string of going nowhere relationships. Everything changed when I met the Gargoyles. The last of their Clan, they were betrayed by the humans they had sworn to protect and frozen in stone for a thousand years. A corrupt man named Xanatos bought their castle and brought it above the clouds, to the top of his corporate headquarters. He wanted to use them for power, but through chance meeting, I became their friend and helped them break free, finding a new home and a new purpose protecting the people of Manhattan. Goliath, Hudson, Brooklyn, Lexington, Broadway, and Bronx became my closest friends.
I never expected to fall in love, least of all with Goliath. So long as I was human and he was a Gargoyle, I could convince myself that it was impossible.
A rogue Gargoyle named Demona changed all that. Seeking to wipe out humanity in general, and me in particular, she summoned one of Oberon's Children, a powerful magical trickster named Puck. She wanted me dead, but the exact wording of the spell made it possible to turn me into a Gargoyle instead. The entire city was changed too, and the Clan was changed into humans. We won and everyone went back to normal... Everyone but me. Somehow, the exact wording of the spell and wish made my transformation permanent.
I've found a new life as one of the Clan. It wasn't easy, but slowly, I accepted that this was who and what I was going to be, now and forever. I took the job of being second-in-command. I accompanied Goliath and Bronx to Avalon, where we helped save the world, and met Goliath's long-lost daughter, Angela. I spent the better part of several months traveling the world with them, trying to get back home.
Upon returning to Manhattan, Goliath and I became mates.
Now, the secret of our existance has been revealed to the world. We're back at the Castle again, having forged an uneasy truce with Xanatos. Some are calling for our heads, seeing us as little more than dangerous beasts set loose on the city. Some are slowly starting to see us as the protectors we are.
***
((The primary character of this journal, of course, is Elisa. From time to time, however (especially in journal posts) other characters from the
Gargoyles
universe may be seen. Disney owns
Gargoyles
; I don't. It's all just for fun.))

Connect
angela
,
beth
,
broadway
,
bronx
,
brooklyn
, cagney,
castles
,
cats
,
claw
,
crime fighting
,
derek
,
desdemona
,
detectives
,
family
, fu-dog,
gargoyles
,
gliding
,
goliath
,
hudson
,
katana
,
lexington
,
maggie
,
manhattan
,
married life
,
my clan
,
protection
,
saving the world
, step-mothering
nextgener49

People
[View Entries]

Communities
[View entries]

Member Of (3):

Subscriptions (3):

Administrator Of (0)

Feeds
[View Entries]

Subscriptions (0)

Linking
To link to this user, copy this code:
On Dreamwidth:
Elsewhere: